From the celebrated author of Big Fish comes an imaginative, moving novel about two sisters, their dark legacy, and the magical town that entwines them.
Wildly inventive and beautifully written, The Kings and Queens of Roam is a big-hearted tale of family and the ties that bind. In this new novel, Southern literary master Daniel Wallace returns to the tradition of tall tales and folklore made memorable in his bestselling novel Big Fish.
"A fanciful story layered in symbolism and ripe with lyrical language..."
— Kirkus Reviews
"Full of adventure, ghosts, steam-punk industrialists, silk-traders, wild dogs, and mysterious lumberjacks..."
— Hannah Tinti, author of The Good Thief


Read More>
Be sure to read the Latest News!
"It's impossible to say exactly where Roam is. A small settlement lost somewhere in a blanket fold of American terrain, between a range of mountains, a light in the forest, a sudden something in the middle of an infinite nothing—it doesn't matter anymore."
— Daniel Wallace, The Kings and Queens of Roam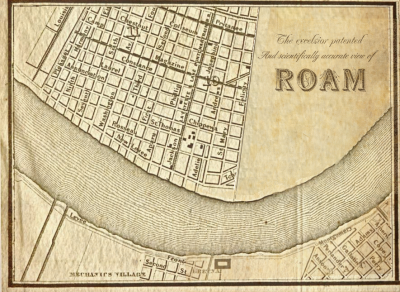 An early map of Roam courtesy Roam Historical Society