I keep forgetting to say how much fun I had in the little town of Greenwood, MS at Turnrow Books. Greenwood is an interesting town, a lot like Chadbourne, NC — Strawberry Capital of the World and inspiration for Daniel Wallace's novel The Watermelon King — in that Main Street isn't very main anymore. It's deserted, empty, except for your occa sional establishment: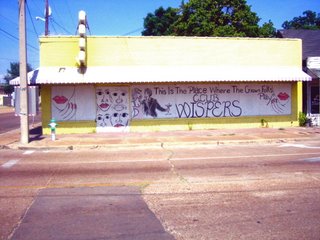 Then you go one street over and there's a spa and an elegant hotel and, of course, this great bookstore, Turnrow. They had this sign out in front: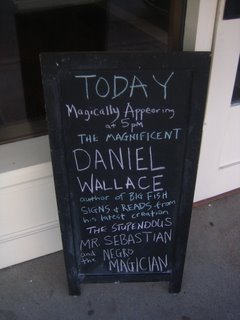 Which I thought was nice. Had a great time.
Then drove to Greenville where on the counter where I checked into my hotel there was a note that read: The water in Greenville is brown. There's nothing wrong with it — it's been tested — it's just brown.
It was.
I also saw this place, but it wasn't in Mississippi. This was in Charlotte.