Archive for February, 2008
Wednesday, February 20th, 2008
I'm teaching now over at the University of North Carolina. When I say 'over' I mean about two miles over from where I live. I really like it. It surprises me, in fact, how much I like it. I have two classes every Tuesday and Thursday, and get to talk to the most eager, intelligent and promising — uh — I guess I can call them 'youngsters' now that I am almost fifty years old.
I'm always trying to find the simplest way to explain the most important thing: how to tell a story. That's my job, after all. Writing a good story is, I admit, a difficult thing to do. But if the beginning writer can simplify the process, boil it down to the bone, his or her chances of success are much greater. Once you learn how all the basic parts work you can start adding to the parts and build something really big that's never been seen before in the world.
So this is what I did. I drew this picture. It has everything a story needs. It's a template. Start here, is what I'm telling them, and you can go far.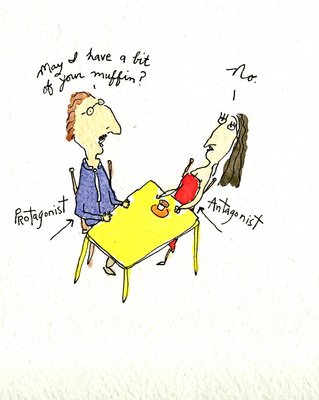 Don't take it literally: i.e., don't write a story about a guy who wants a bit of a girl's muffin. Just use these three parts: the protagonist, the antagonist, and the thing the protagonist wants, the thing the antagonist denies him. And voila.
Does this make sense?