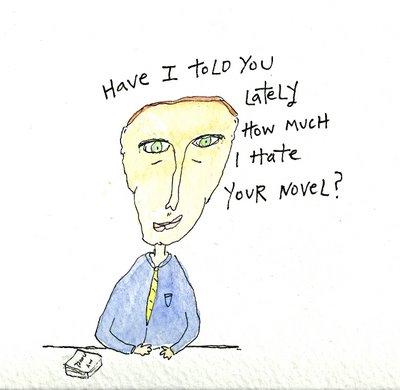 It's summer, and I've been getting a fair amount of work done. I've been working on a novel, on a script, drawing lots of my little pictures, and writing stories. I don't send out stories to magazines very much; as any writer can tell you, submitting can be a chore. What this means is that I have a lot of unpublished stories here. Good stories (if I can say that without being the kind of guy who would say something like that).
So I thought I'd try a little experiment. If you're a magazine editor and would like to consider one of my stories for publication in your magazine, please contact me. If you're reading this, you know something about me, and I would like to know something about you, so please include all the information about your publication you can. I'm not demanding a ton of money. I do like to see my stories in nice-looking magazines, and I also prefer national distribution, if possible. Other than that, I'm wide-open.
Among the stories available for publication are: "The Monkey Woman": obviously, about a woman and a monkey; " The Cancer Diet": sad/funny/bittersweet; " The Fortune Ruined Me": a trust fund baby, now middle-aged, lives beneath the stairs of his family home in order not to have to face the real world; "Rudy": "Rudy" is about a young couple who have several disastrous relationships with dogs. And ""Graveyard Days," about a guy who picks up women in a graveyard.
That's about it, dear editor. I look forward to hearing from you. Sincerely, Daniel Wallace