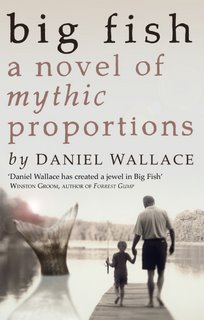 Last summer everybody at Hoover High School, which you will find in Hoover, Alabama, were forced to read Big Fish. This is a program similar to those One Book/One City programs, where they pick a single book for everyone to read. It really is a good idea. Everybody has a common knowledge, something other than sports and Britney — something different to talk about.
At any rate. The good folks at Hoover — which is a mere fifteen miles or so from where I was born — created a message board for the students to post their responses to the book. Hoover High must be one of those schools for the over-achievers among us because these guys are smart and articulate. Even those who really didn't care much for the book.
Here's a link to it.
p.s. A lot of people didn't much like the way I portrayed women in the book. I have to agree with them. I don't like it much either.