The Kings and Queens of Roam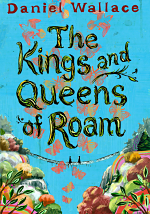 Now in Paperback!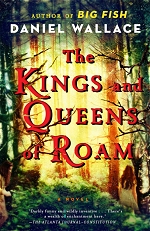 From the celebrated author of Big Fish, an imaginative, moving novel about two sisters and the dark legacy and magical town that entwine them.
Helen and Rachel McAllister, who live in a town called Roam, are as different as sisters can be: Helen older, bitter, and conniving; Rachel beautiful, naÏve – and blind. When their parents die an untimely death, Rachel has to rely on Helen for everything, but Helen embraces her role in all the wrong ways, convincing Rachel that the world is a dark and dangerous place she couldn't possibly survive on her own … or so Helen believes, until Rachel makes a surprising choice that turns both their worlds upside down.
In this new novel, Southern literary master Daniel Wallace returns to the tradition of tall-tales and folklore made memorable in his bestselling Big Fish. The Kings and Queens of Roam is a wildly inventive, beautifully written, and big-hearted tale of family and the ties that bind.
See The Kings and Queens of Roam website
Praise for
The Kings and Queens of Roam

:

*Starred Review* Somewhere in the deepest, wildest part of America, there is a place called Roam. Once a thriving mill town founded by unscrupulous silk merchant Elijah McCallister, it is now a virtual ghost town. Of the few people remaining, none are more curious than Helen and Rachel McCallister, Elijah's great-granddaughters. Like sisters out of the Brothers Grimm, they are as different as chalk and cheese. Rachel is beautiful, trusting, kind, and blind. Helen is as hideous inside as she is out, a vindictive harpy whose shrewish behavior and tortured visage isolate her in self-imposed exile. So jealous is she of her sister's beauty that, after their parents die and Rachel is left solely in her care, Helen vengefully tells the most vicious lies to keep Rachel in her thrall: that Rachel is ugly; that the world is a gothic and dangerous place; that no roads lead into or out of Roam. Like a maiden princess locked in the witch's castle, Rachel accepts her fate until the day she discovers she can orchestrate her escape. Teeming with dwarfs and giants, feral dogs, and wily spirits, Wallace's eerie fairy tale for grown-ups is a melancholy yet enchanting pastiche of love, loss, redemption, and revenge.

— Carol Haggas from Booklist

"Daniel Wallace is one of our most masterful storytellers and his latest creation, The Kings and Queens of Roam, is brimming with his brilliant visions and wise observations about life. Part fairytale, part myth and legend, the city of Roam and her inhabitants–both living and dead–materialize in ways that are equal parts comedy and tragedy. At the heart of it all are two sisters: Rachel and Helen, the twists and turns of their relationship leading the reader on a journey that ultimately is a moral tale–one of grief and forgiveness and the meaning of love."

— Jill McCorkle, author of Life After Life.

"Full of adventure, ghosts, steam-punk industrialists, silk-traders, wild dogs, and mysterious lumberjacks, Daniel Wallace's The Kings and Queens of Roam is touched with both magic and whimsy. I paused just as often to savor the beauty of Wallace's sentences as I did to wipe away tears at his characters' predicaments. An epic and modern fairy tale of sisters and friendship, The Kings and Queens of Roam is about the lies we tell, to ourselves and to each other, and how those stories go on to shape the world around us."

— Hannah Tinti, author of The Good Thief.

"There is much magic in Daniel Wallace's superb new novel–curses, caves, even a haunted wood–but the most impressive magic is Wallace's understanding of the human heart's depths and vagaries. The Kings and Queens of Roam is a fairy tale for adults."

— Ron Rash, author of The Cove and Serena.
---
Click any of the links below to purchase
The Kings and Queens of Roam
:
BookSense.com
(which links you to a local, independent retailer)