Big Fish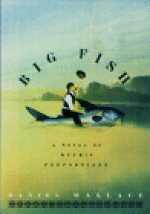 In his prime, Edward Bloom was an extraordinary man. There wasn't anything he couldn't do —and do well. He could outrun anybody. He never missed a day of school, even in the worst blizzard. He saved lives. Animals loved him, people loved him, women loved him. He was an inspired salesman — a visionary, in fact. And he knew more jokes than any man alive. Or at least that's what he's told his son, William. William doesn't really know his father because, actually, Edward wasn't home all that much. What William knows about his father he's had to piece together from the little bits of stories he's gathered over the years. Now, watching his father die, William grows increasingly desperate to know him before it's too late. And in a wonderful sleight of hand, William recreates his elusive father's life in a series of legends and myths inspired by the few facts he knows. Through these tales, William begins to understand Edward Bloom's great feats —and his great failings. He manages, somehow, to reckon with the father he's about to lose. And he finds a way to say good-bye.
Praise for Big Fish:
"A talented and fascinating writer. Daniel Wallace has created a jewel in Big Fish."

—Winston Groom, author of Forrest Gump.
"Big Fish is going to make a very big splash! It's got everything: heart, wonderful writing, and accessibility . . . a very special novel which may well become a classic."

—Lee Smith, author of News of the Spirit.
"In this first novel, Daniel Wallace…adds legends and folk tales from the Southern backwoods, throws in a smattering of Greek myth and attaches a few of his own inventions. Applying all of these…resulted in a story that is both comic and poignant."

—New York Times Book Review
---
Click any of the links below to purchase Big Fish
BookSense.com
(which links you to a local, independent retailer)
Here are some links which will lead you to reviews of the Big Fish book, as well as to information about the movie, Big Fish.
The following three links are reviews of Big Fish, the book.
Big Fish, The Movie
A sampling of sites about Big Fish, the movie, though there are hundreds to pick from.