Ray in Reverse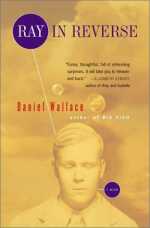 Regret looms large in Daniel Wallace's latest novel, Ray in Reverse, the funny and poignant story of a life, told backward. Sitting in the Last Words support group in Heaven, Ray Williams ruminates on his short life of fifty years, his episodes of infidelity, his premature marriage proposal, his sexual confusion, the dog he accidentally killed, and the baby he unwittingly saved. Ray is Everyman at his very best and his absolute worst-even he can't always tell the difference. Beginning at death and ending in his childhood, Ray in Reverse leads us back to Ray in his innocence, achieving, against all odds, a happy ending.
Praise for Ray In Reverse:
"Daniel Wallace brings to his role as author wit, a subtle compassion, and an offbeat originality that begins, but certainly doesn't end, with the backward unreeling of this refreshingly savvy novel."
— The Boston Globe
"Wallace's stylistic tour-de-force, bolstered by the richness of his family portraits, humor and appreciation of ordinary people, demonstrates again extraordinary originality, craftsmanship and charm."
— Publishers Weekly
"Exquisite…compelling reading."
— Booklist
---
Click any of the links below to purchase Ray In Reverse
BookSense.com
(which links you to a local, independent retailer)

Here are a couple of nice reviews of Ray in Reverse, my second book:
A review from January Magazine.